UET-FIT presently offers 05 Master and 04 Ph.D. programs in various categories: national-standard, international-standard, and international-joint. UET's programs all aim to provide students with: (i) up-to-date knowledge on concepts, methodology and techniques in engineering fields and their related ones, (ii) a scientific, systematic and critical way of thinking that will help them effectively approach and solve both theoretical and practical problems they will be facing in their study and later in their professional life, and (iii) a capability to easily adapt themselves to the circumstances of their career development.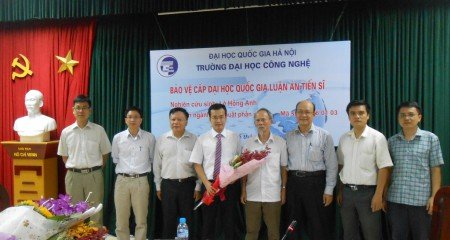 Graduate programs
– Master of Science and Ph.D. in Computer Science
– Master of Science and Ph.D. in Information Systems
– Master of Science in Information System Management
– Master of Science and Ph.D. in Communications and Computer Networks
– Master of Science and Ph.D. in Software Engineering
The duration of all above-mentioned Master and Ph.D. programs are 2 and 3 years, respectively.
Special programs
With financial support from the "VNU Project for building and developing training programs to international standards"— a strategic mission of the VNU, the UET-FIT offers international-standard Master of Science and Ph.D. programs to selected students.
Students in these special programs are required to perform additional tasks within a course and to undertake more advanced courses not required by the standard programs. These programs are designed to provide students with additional skills such as project implementation, and effective English communication. A significant part of the program is given in English language. Some courses are also taught by professors from well-known overseas partner universities. Furthermore, graduation theses can be evaluated by international examination commissions.
Enrollment
For detailed information on graduate admissions of the Faculty of Information Technology, please see on the website of the VNU- University of Engineering and Technology at the address: http://fit.uet.vnu.edu.vn/tuyen-sinh-sau-dai-hoc/