The Faculty of Information Technology was established on February 11, 1995 at VNU University of Natural Sciences and was re-established on September 9, 2004 at VNU University of Engineering and Technology. Inheriting and continuing the tradition of the branch of Computer Science at the Faculty of Mathematics – Engineering – Informatics (1960-1989) and the Institute of Informatics and Electronics at the former University of Hanoi (1990-1995), the Faculty of Information Technology is a leading IT faculty in Vietnam and gradually establishes its position in the region.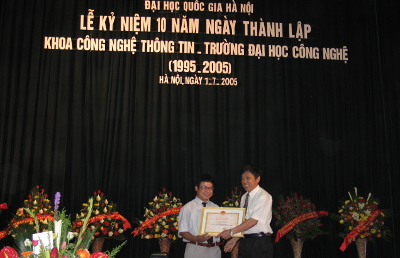 Currently, the Faculty of Information Technology consists of five departments and four research laboratories with a total of more than 80 faculty members including a number of postgraduate students working as teaching assistants. Every year, about 400 undergraduate students, 200 master students and 20 Ph.D. students are admitted to the faculty.
We take pride in the broad range and high quality of our teaching programs. Our teaching gains strength and relevance from our activities, industrial and international collaboration. In developing new ideas and promoting lasting knowledge, we are creating an academic environment where outstanding students and scholars from around the world can be inspired to excel in their programs of study and research.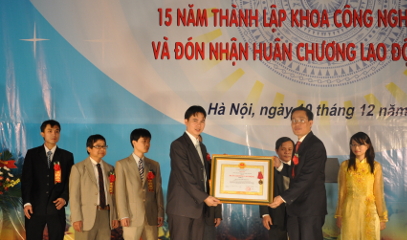 Faculty of Information Technology is the first faculty in Vietnam having one of its programs, namely Bachelor of Information Technology, gets assessed by the Asian University Network in 2009. We are also running three international standard programs in Computer Science at both undergraduate and postgraduate levels.
Faculty of Information Technology has extensive collaborations in teaching and researching with leading universities and institutes around the world such as JAIST, Tohoku University (Japan), UNU-IIST, University of New South Wales, National University of Singapore, University of Twente, etc. The faculty also has a strong research engagement with industry and is carrying out some joint research projects with industrial partners such as IBM, Mitani-Sangyo, NEC, Panasonic, Toshiba and Samsung Vietnam as well as Viettel R&D, FPT Group, SmartOSC and others. Toshiba-UET Software Technology Laboratory and UET-IBM Center of Excellence are the two significant international academy-industry collaboration projects at UET, which are run by the faculty members of the Faculty of Information Technology.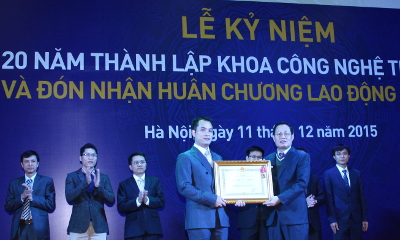 Having contributed positively to the cause of training IT human resources for the country, the faculty has been awarded the Certificate of Merit by the Prime Minister and the Third Class Labour Order by the President of the Socialist Republic of Vietnam on the 10th and 15th Anniversaries of its foundation respectively.