Data Science and Knowledge Technology Laboratory (DS-KTLab), Faculty of Information Technology was established under the Decision No. 1070 / QD-TCHC dated November 15, 2010 by the Rector of the VNU – University of Technology and Engineering, Vietnam National University. The precursor of DS-KTLab is the Research Group on Data Mining and Application (1998 – 2006) and the Laboratory of Knowledge and Data Security Technology (SIS-KTLab, 2006-2010). The main tasks of DS-KTLab are undergraduate and graduate training, promoting the organization and implementation of research projects in data science and knowledge technology, and cooperating with industrial and academic domestic and international organizations.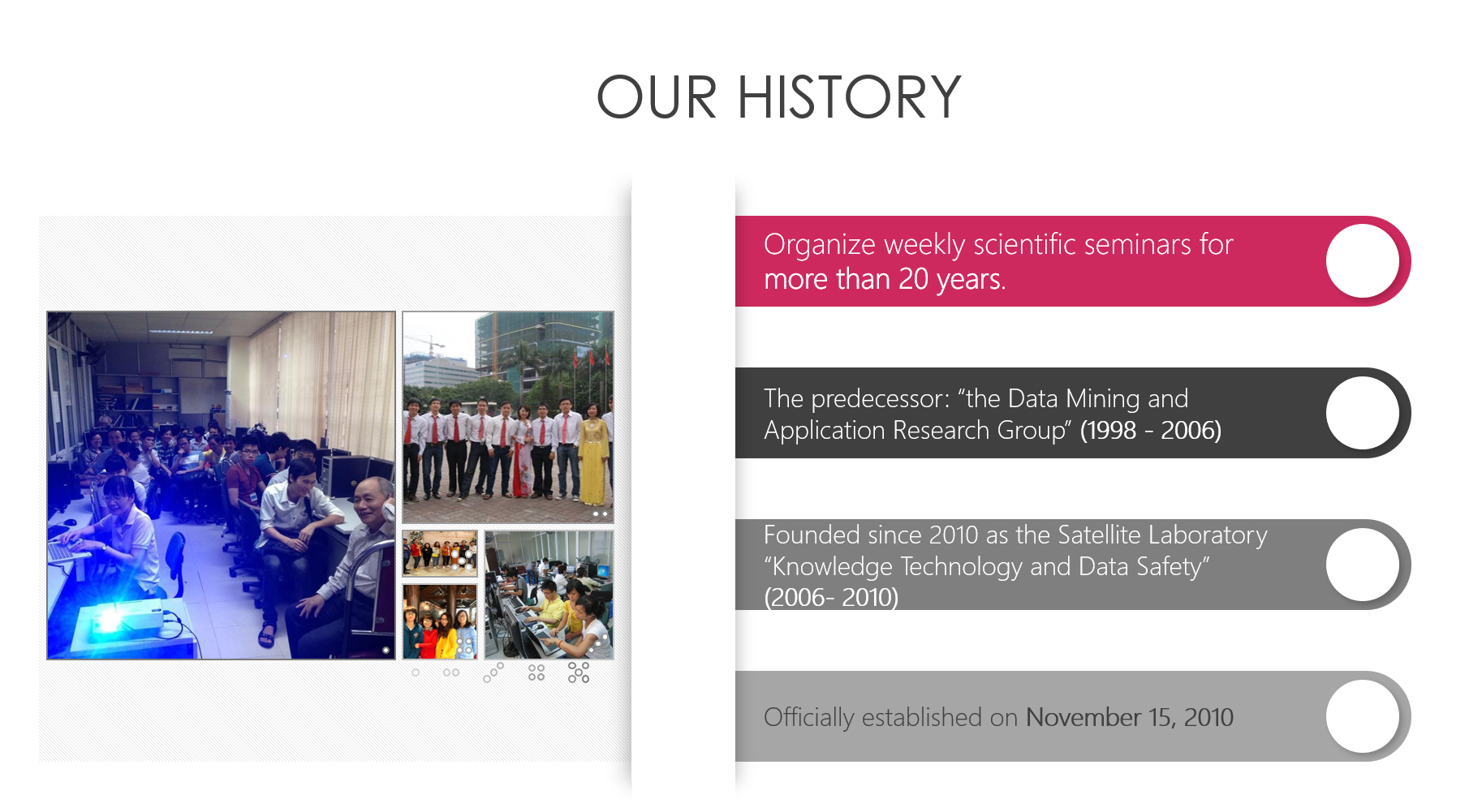 DS-KTLab currently has two associate professors, three doctors, five masters with extensive experience in teaching and implementing research projects on data mining (data mining), machine learning (machine learning), business intelligence. DS-KTLab has adjunct professors, visiting professors and scholars abroad such as Professor Nguyen Hung Son, Professor Nguyen Anh Linh (Poland), Tien Dr. Doan Son (United States), PhD. Nguyen Cam Tu (China).

Scientific research
Full-time and part-time staffs of DS-KTLab have extensive experience in organizing and implementing research projects in the fields of data mining, machine learning, online social networks and online social media, natural language processing, intelligent systems, and business intelligence. DS-KTLab is performing 12 R&D projects, including 02 national projects, 03 ministerial projects, 06 VNU's projects and 01 industrial project. DS-KTLab has published more than 200 publications in top-tie international conferences and ISI journals. DS-KTLab has maintained a weekly scientific seminar since 1998 and this is considered an activity to promote research and innovation. In addition to carrying out in-depth research on these fields, DS-KTLab also aims to deploy, deliver, and apply enterprise intelligence and data analysis solutions to industry partners. DS-KTLab also upholds the spirit of assisting students and students in realizing a startup dream based on research and development achievements in the above areas.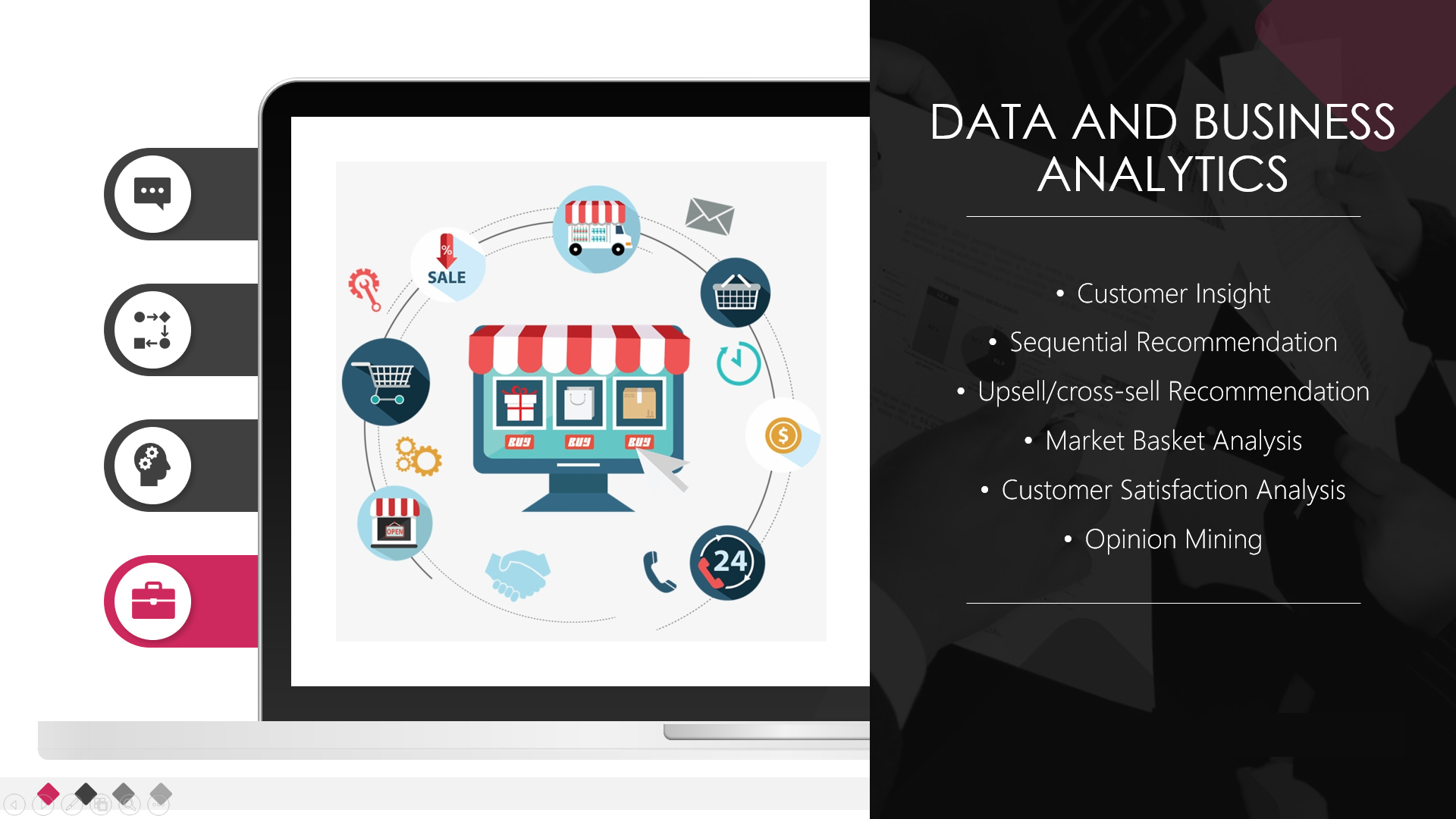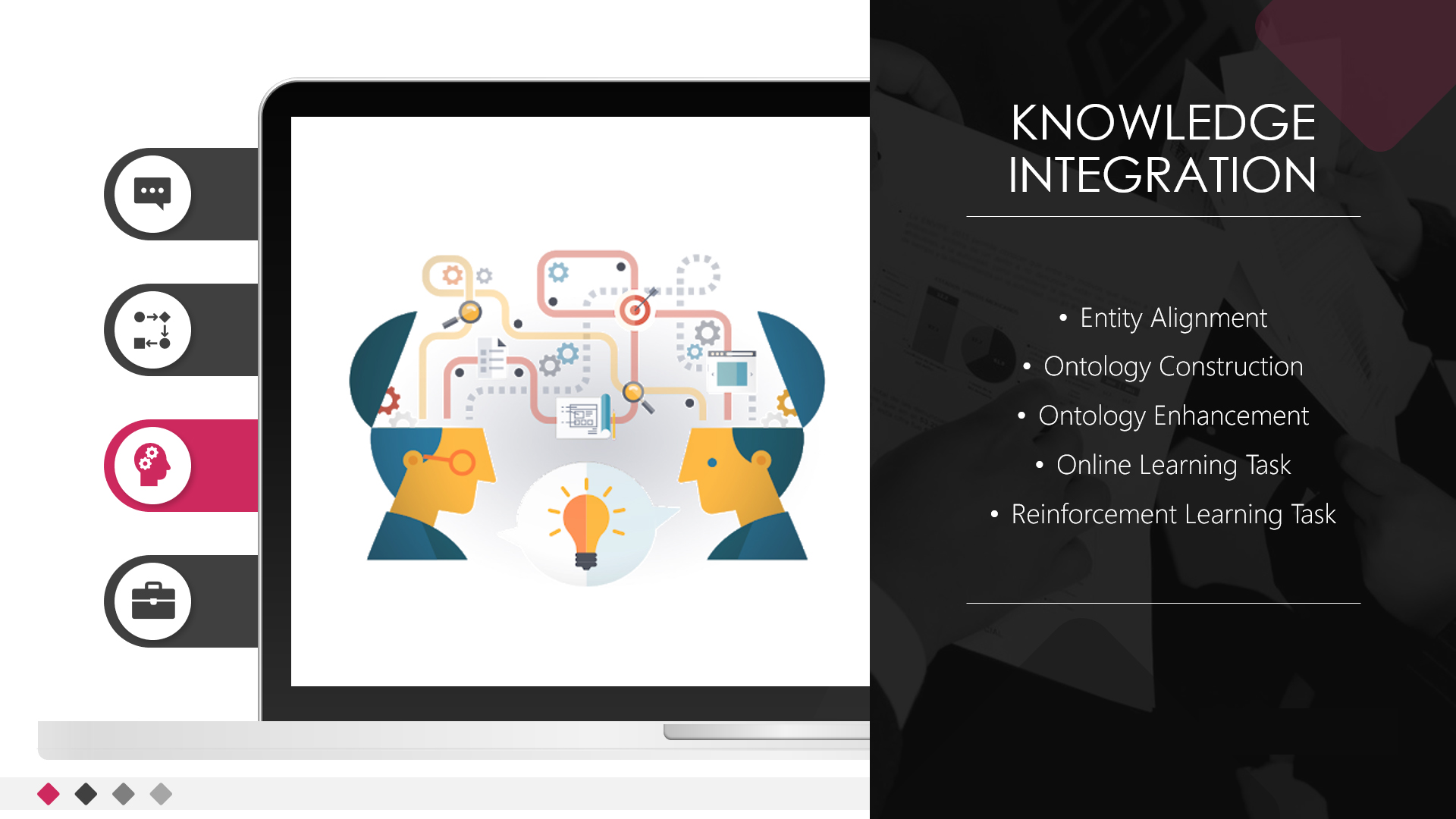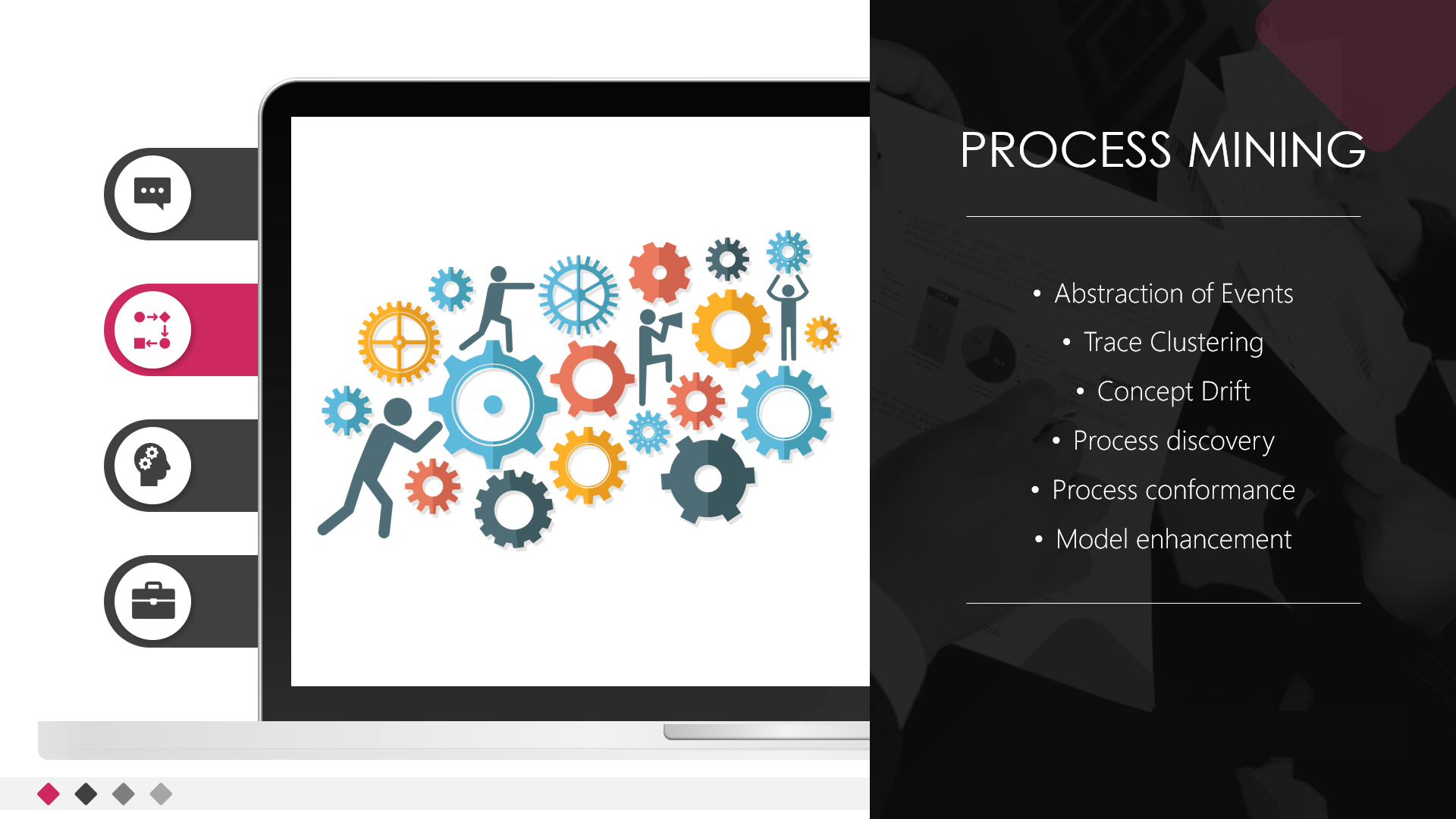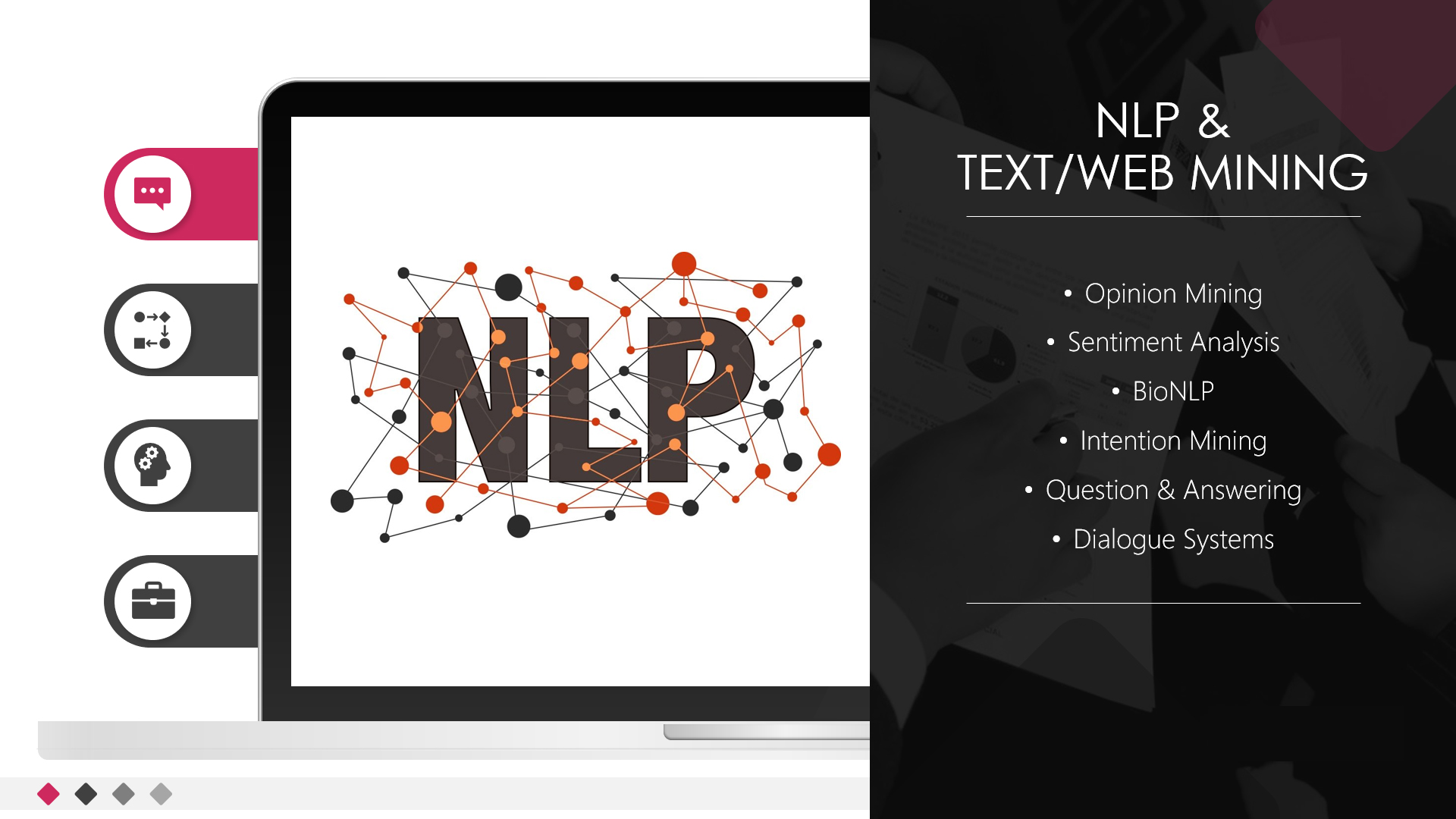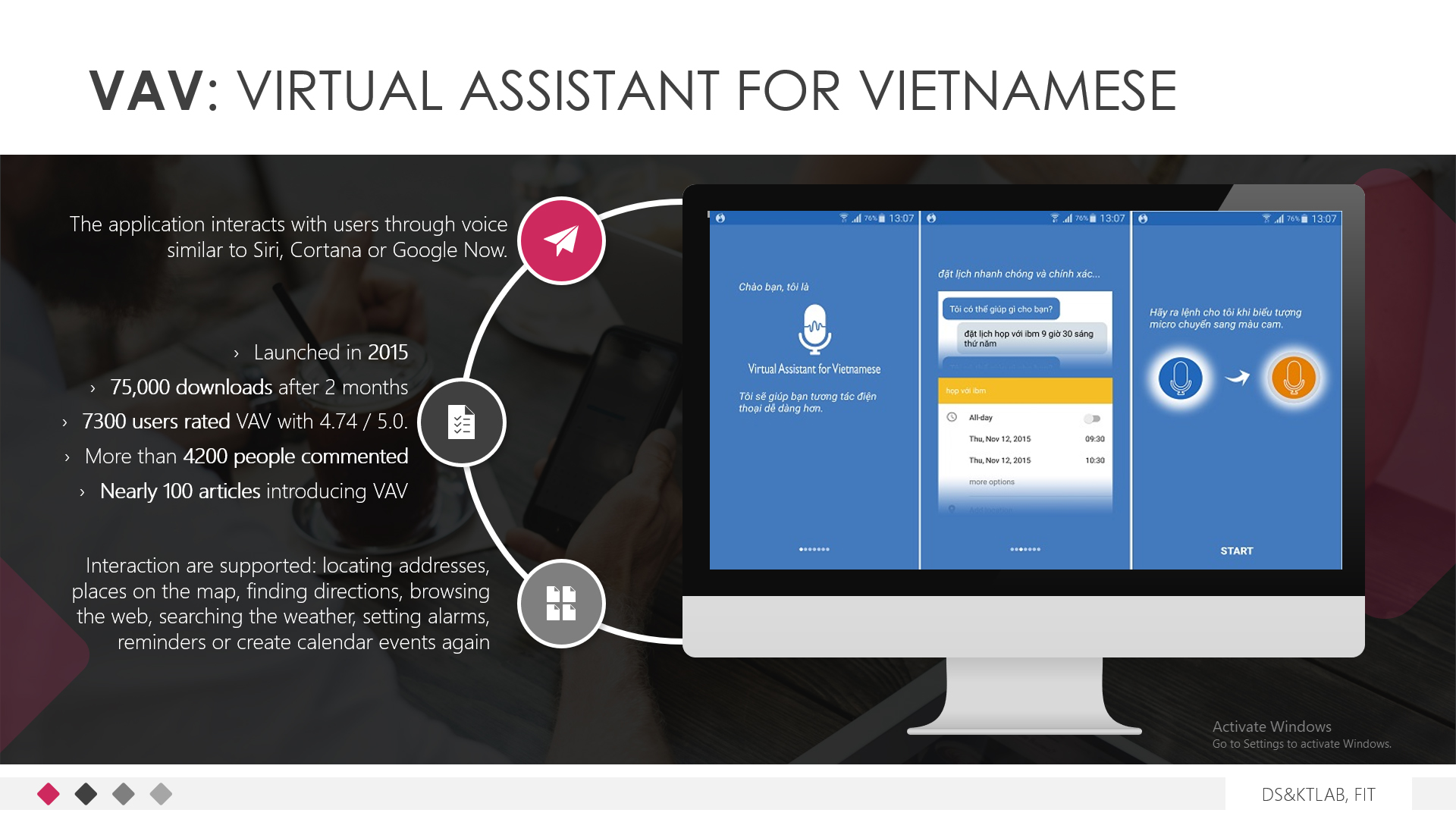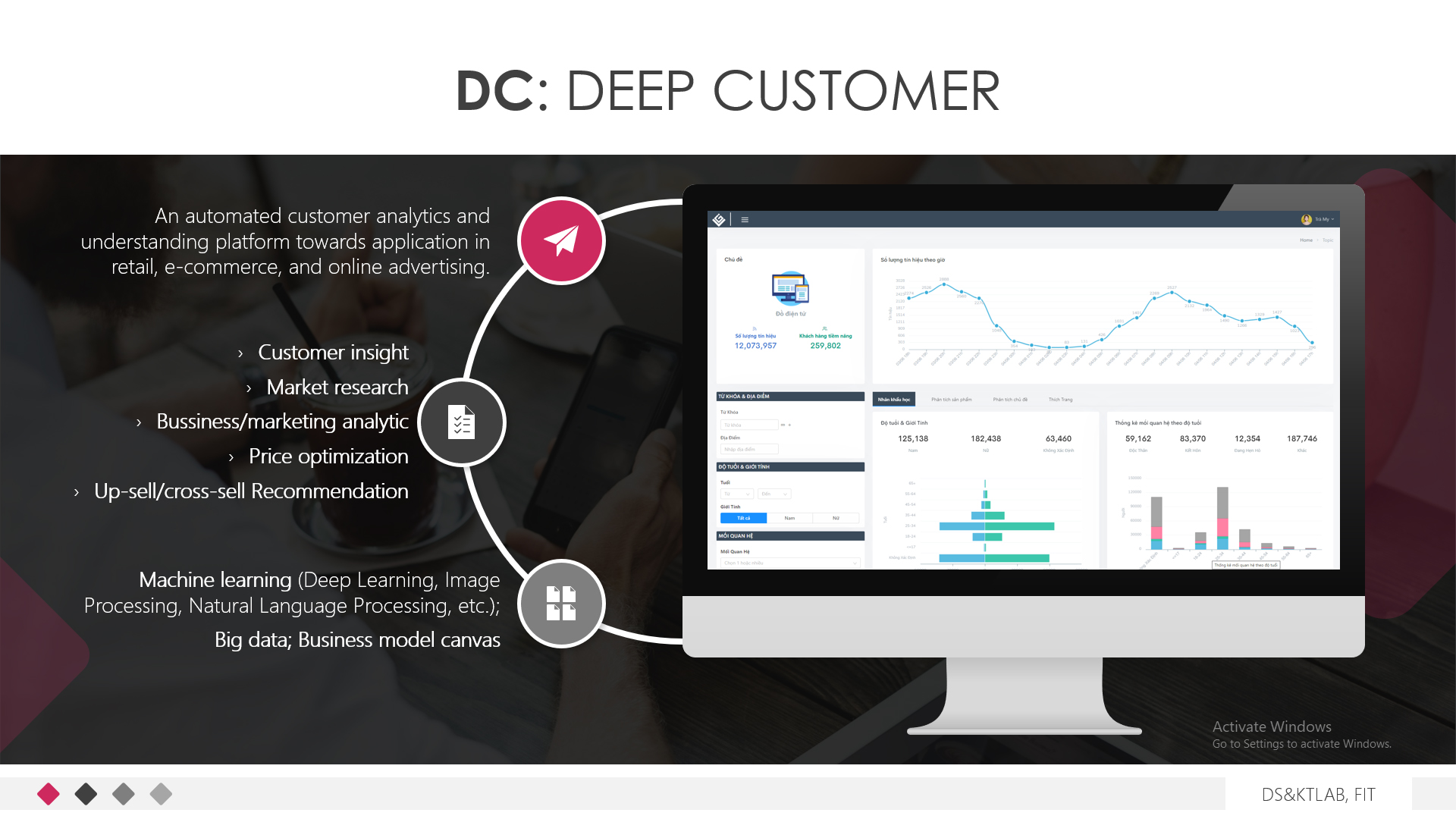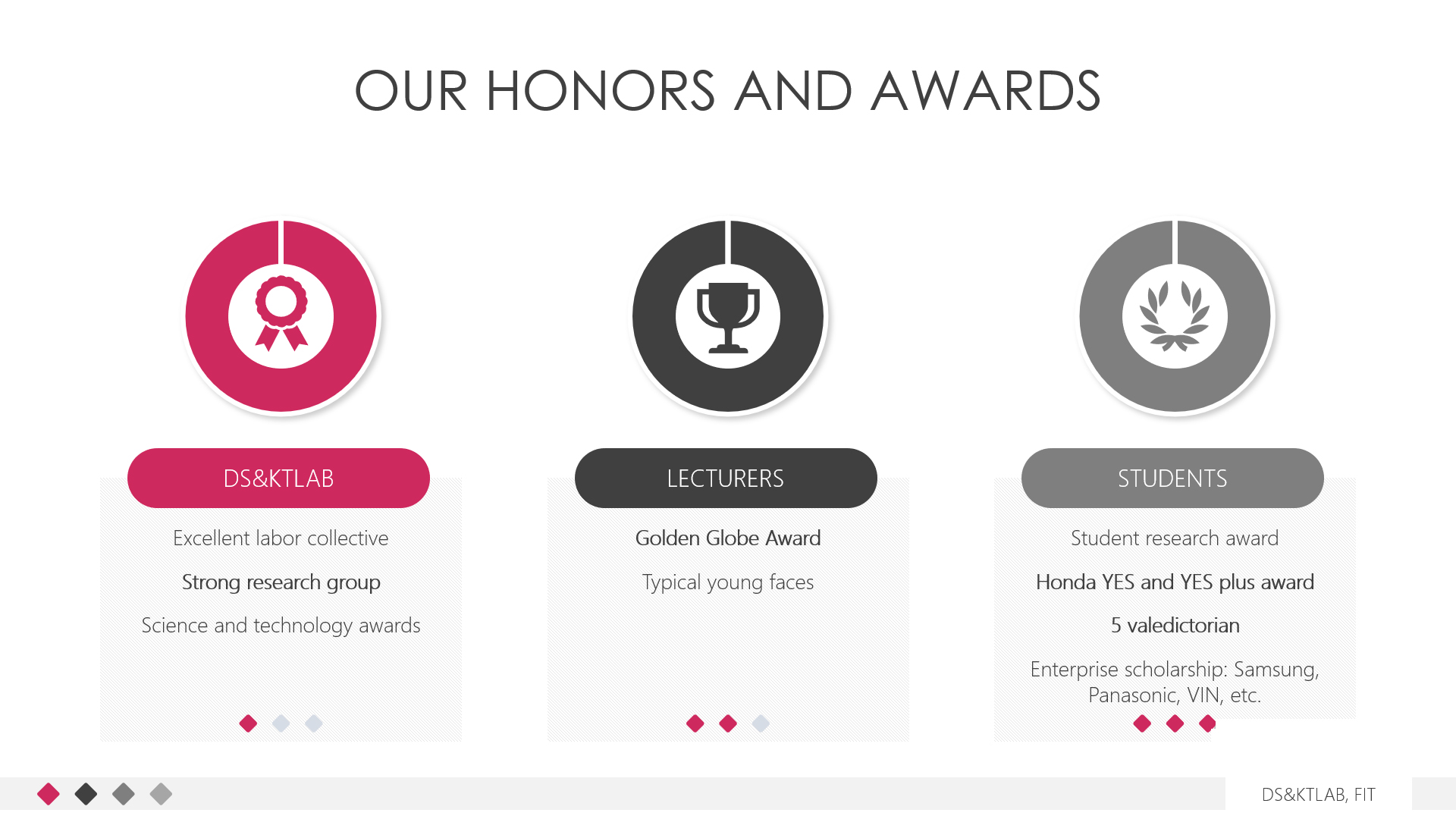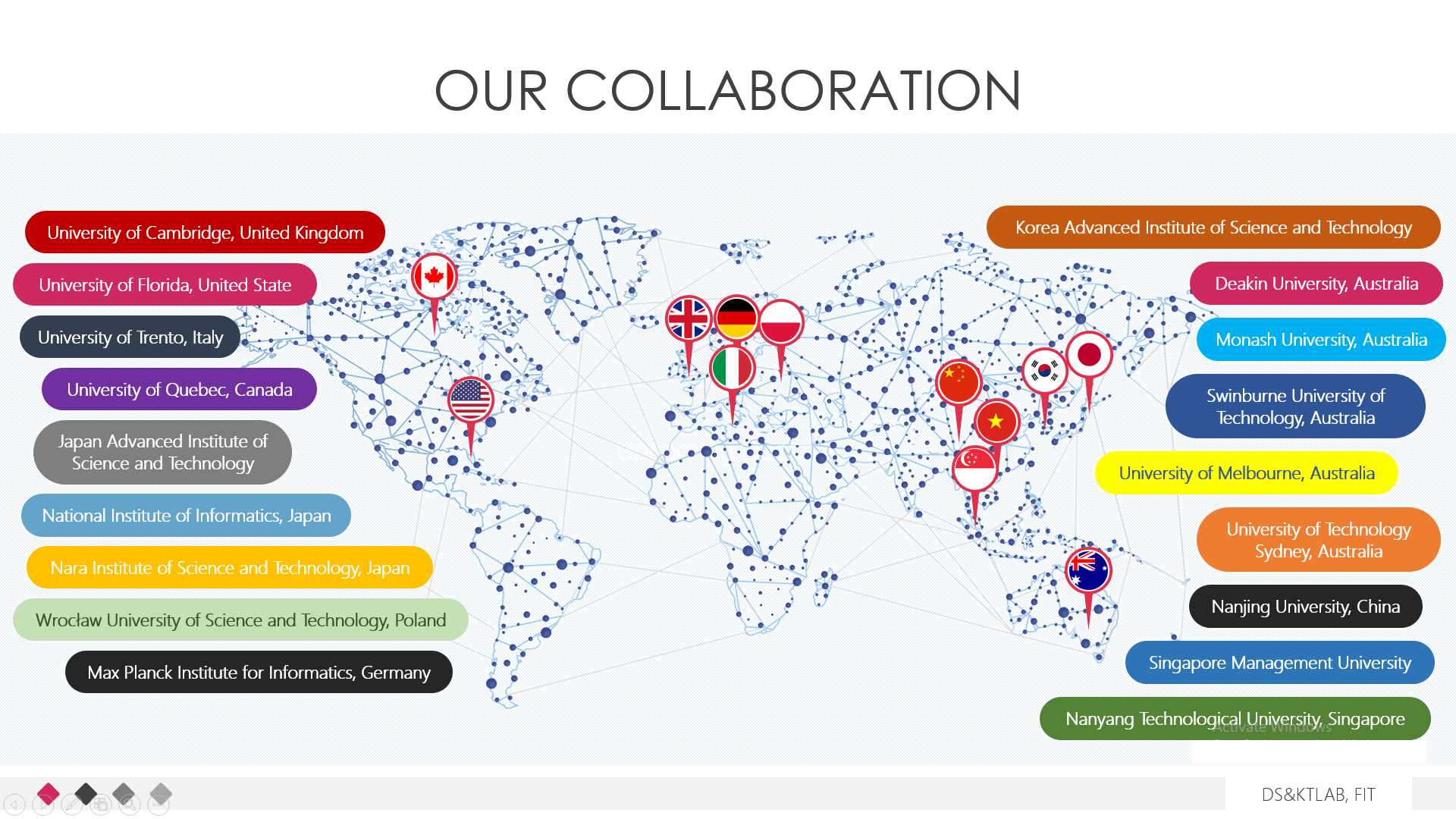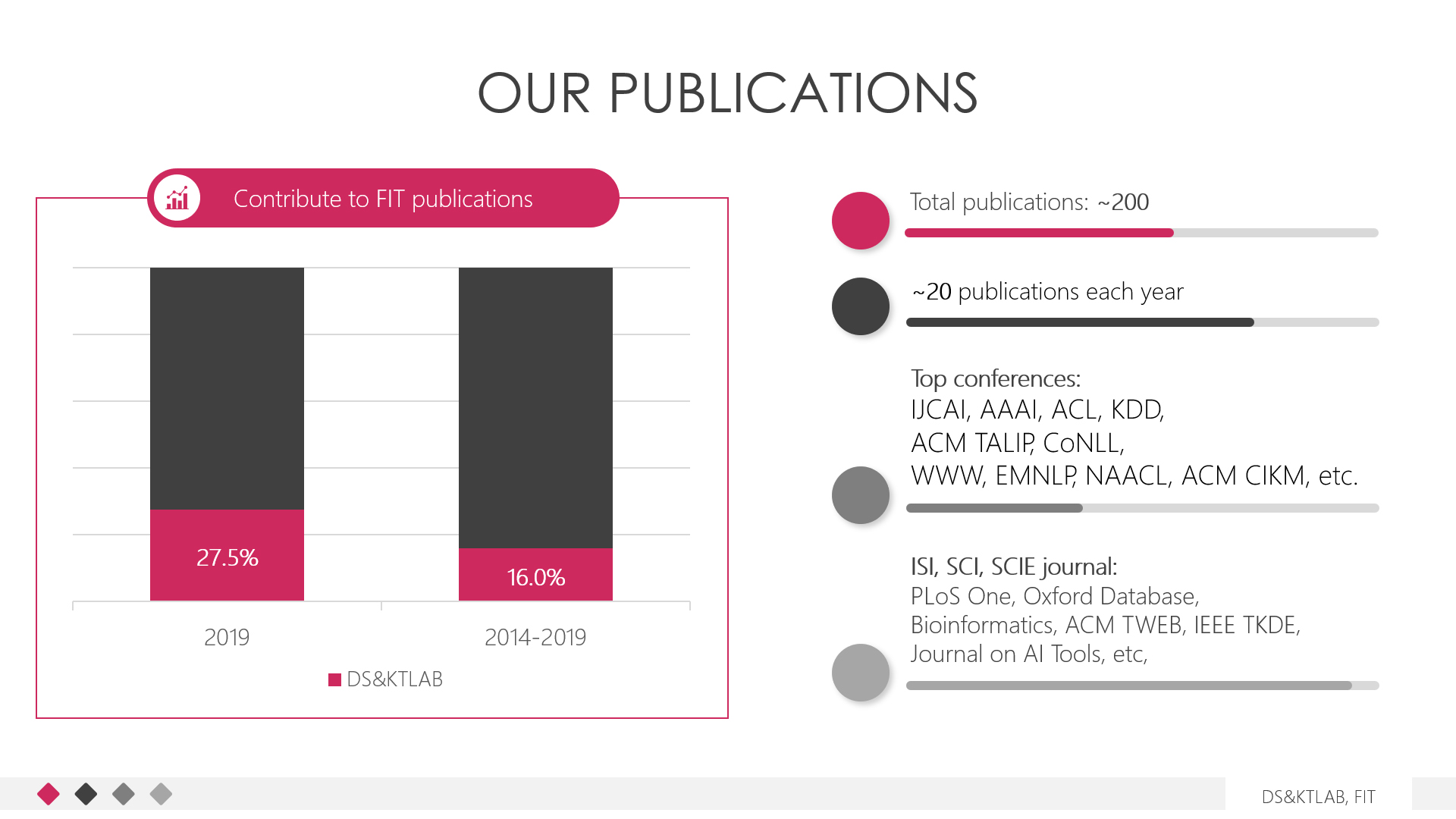 Lecturers and staffs of the Laboratory:
– Assoc. Prof. Ha Quang Thuy (Former Vice Principal of UET)
– Assoc. Prof. Phan Xuan Hieu (Director)
– Dr. Tran Trong Hieu
– Dr. Tran Mai Vu
– Dr. Le Duc Trong
– MSc. Le Hoang Quynh
– MSc. Vuong Thi Hai Yen
– MSc. Vuong Thi Hong
– MSc. Nguyen Cam Van
– MSc. Can Duy Cat
– MSc. Pham Thi Quynh Trang
– BSc. Nguyen Thi Thu Trang
– BSc. Pham Hoang Quoc Viet
Contac:
Address: 312 – E3 – 144 Xuan Thuy – Cau Giay – Hanoi
Phone: 84 4 37547813
Website: http://vnlp.net/blog/